[for Tulsa-area tryouts, click here]
See below for age definitions and for tryouts as approved by the OKRVA Region office.  Note that additional tryouts may be added by clubs, but those MUST be approved by the Region office prior to publication by member clubs.
If anyone has any questions, please contact the Region office.
---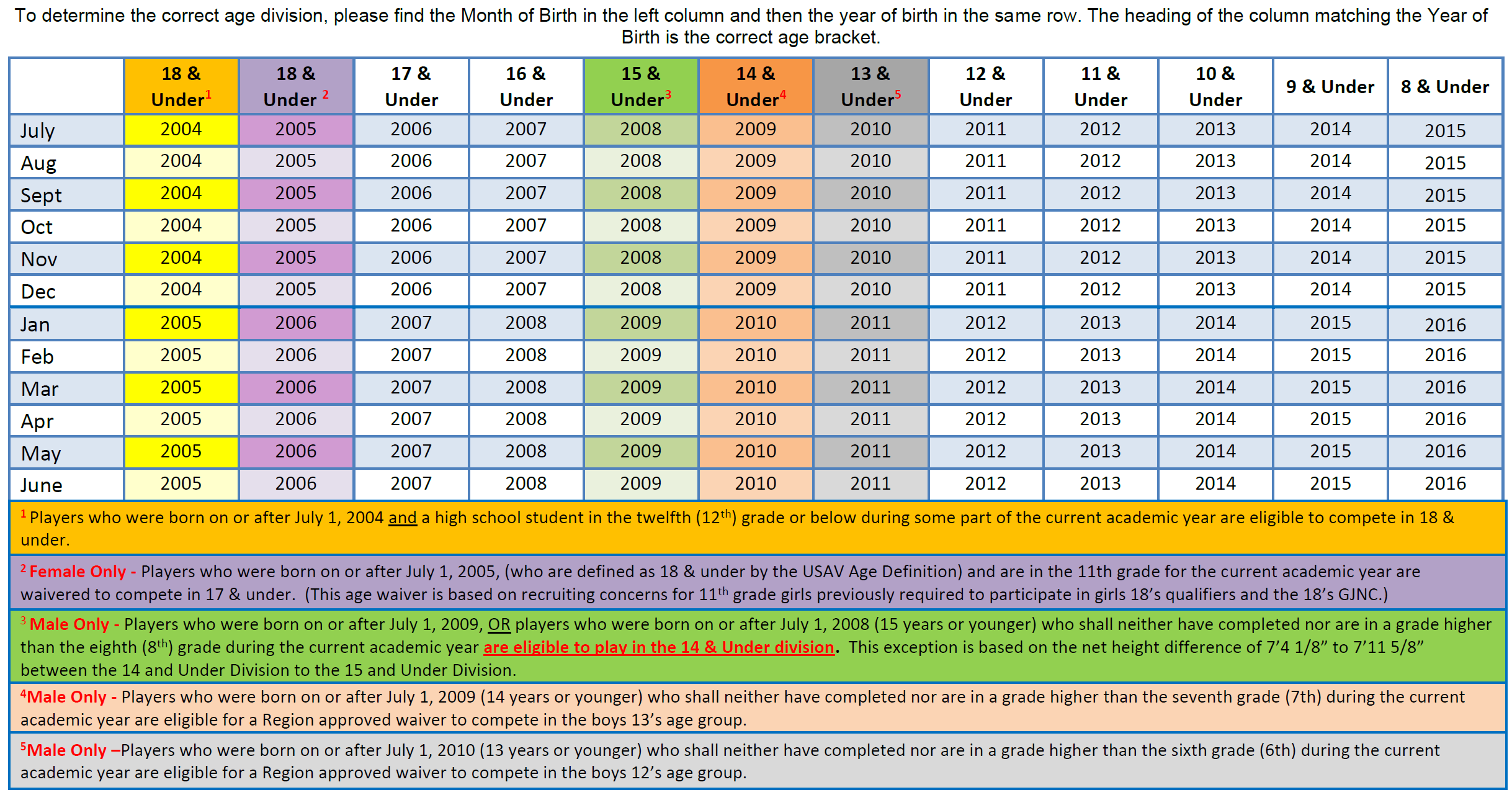 ---
---
Girls 12 & under + Boys (all)
OKC
10s-11s
12s
Boys (all)
Sept 17
Kaizen Boys (All)
3:00-5:00pm

OKC Heat Boys (All)
6:00-8:00pm
Sept 18
OK Dynamite Boys (All)
6:30-8:30pm
Sept 20
Chaos 11s/12s
6:00-8:00pm

Okla Aspire 12s
6:30-8:30pm
Sept 21
OKC Ignite 11s
5:00-6:30pm
Sept 22
OKC Ignite 12s
5:00-6:30pm

OKVA 11s/12s
6:30-8:30pm
Sept 23
OK Premier 11s/12s
10am-12pm

Kaizen 10s/11s/12s
4:00-6:00pm
Sept 24
Peak 10s/11s
5:00-7:30pm
Peak 12s
1:00-3:30pm

Charge 12s
5:00-7:30pm

Charge South 12s
5:00-7:30pm

Charge West 12s
5:00-7:30pm
Sept 25
Charge 10s/11s
6:00-8:30pm

Charge-South 10s/11s
6:00-8:30pm

Charge-West 10s/11s
6:00-8:30pm
OKC Heat 11s/12s
7:30-9:30pm
Sept 26
Stingray 11s/12s
6:00-8:00pm

Charge-Stillwater 10s/11s/12s
6:00-8:00pm

OK Dynamite 11s/12s
6:30-8:00pm

---

Sept 30 -
First Eligible Signing Day
Sept 30 -
First Eligible Signing Day

---

Oct 1
OKC Ignite 12s
3:30-5:00pm
---
Girls 13s & 14s
OKC
13s
14s
Oct 3
Oct 4
Chaos 13s
5:30-7:00pm

OKC Heat 13s
7:30-9:30pm
Chaos 14s
7:00-9:00pm
Oct 5
OKC Ignite 13s
5:00-7:00pm

Kaizen 13s
7:30-9:30pm
Kaizen 14s
7:30-9:30pm
Oct 6
OKVA 13s
6:00-8:00pm
OKVA 14s
4:00-6:00pm

OKC Ignite 14s
6:30-8:30pm
Oct 7
OK Premier 13s
9am-12pm

OK Force 13s
2:00-4:00pm
OK Premier 14s
2:00-5:00pm

OK Force 14s
2:00-4:00pm
Oct 8
Rise 13s
10am-1pm

Charge 13s
1:30-4:00pm

Peak 13s
6:00-9:00pm
Rise 14s
10am-1pm

Peak 14s
1:30-4:00pm

Charge 14s
6:00-9:00pm
Oct 9
405 Drive 13s
5:30-7:30pm

Charge-Stillwater 13s
6:00-8:00pm

Charge-South 13s
7:00-9:00pm

Charge-West 13s
7:00-9:00pm

Stingray 13s
7:00-9:00pm
405 Drive 14s
5:30-7:30pm

Charge-Stillwater 14s
6:00-8:00pm

Charge-South 14s
7:00-9:00pm

Charge-West 14s
7:00-9:00pm
Oct 10
Dynamite 13s
6:00-8:00pm
Stingray 14s
6:30-8:30pm
Oct 11
OKC Heat 14s
7:30-9:30pm
Oct 12
OK Dynamite 14s
6:00-8:00pm
Oct 14 -
First Eligible Signing Day

---

---

Oct 14
Okla Aspire 14s
2:00-4:00pm
Oct 15
Okla Aspire 13s
2:00-4:00pm
---
Girls 15s, 16s, and 17s/18s
OKC
15s
16s
17s-18s
Oct 24
OKVA 15s
5:00-7:00pm

405 Drive 15s
6:00-8:00pm
405 Drive 16s
6:00-8:00pm

OKVA 16s
7:00-9:00pm
Oct 25
Chaos 15s
5:30-7:00pm

OKC Heat 15s
7:30-9:30pm
Chaos 16s
7:00-9:00pm
Oct 26
Chaos-South 15s
6:00-8:00pm

OK Dynamite 15s
7:30-9:30pm
OKC Ignite 16s
5:00-7:00pm

OK Dynamite 16s
7:30-9:30pm
OKVA 17s/18s
5:00-7:30pm

Kaizen 17s/18s
8:00-10:00pm
Oct 27
OKC Ignite 15s
5:00-7:00pm

Kaizen 15s
7:30-9:30pm
Kaizen 16s
7:30-9:30pm
Chaos 17s/18s
5:30-7:30pm

OKC Ignite 17s
7:30-9:30pm
Oct 28
Charge 15s
9am-12pm

OK Premier 15s
1:00-4:00pm

OK Force 15s
2:00-5:00pm

Peak 15s
5:00-8:00pm
OK Premier 16s
1:00-4:00pm

OK Force 16s
2:00-5:00pm
OK Premier 17s/18s
1:00-4:00pm

405 Drive 17s/18s
2:00-4:00pm

OK Force 17s
2:00-5:00pm

Rise 17s/18s
6:00-9:00pm
Oct 29
Stingray 15s
1:00-3:00pm

Rise 15s
2:00-5:00pm

Charge-South 15s
3:00-6:00pm

Charge-West 15s
3:00-6:00pm
Rise 16s
10am-12:30pm

Peak 16s
1:30-4:30pm

Charge 16s
6:00-9:00pm
405-Blanchard 17s
12:00-2:00pm

Charge 17s/18s
12:00-3:00pm

Charge-South 17s/18s
12:00-3:00pm

Charge-West 17s/18s
12:00-3:00pm

Peak 17s/18s
6:00-9:00pm
Oct 30
Charge-Stillwater 15s
6:00-8:00pm
Charge-Stillwater 16s
6:00-8:00pm

Charge-South 16s
6:00-8:00pm

Charge-West 16s
6:00-8:00pm

Stingray 16s
6:30-8:30pm

OKC Heat 16s
7:30-9:30pm
Charge-Stillwater 17s/18s
6:00-8:00pm

Chaos-South 17s
6:00-8:00pm

OKC Heat 17s/18s
7:30-9:30pm
Oct 31
Stingray 17s/18s
6:30-8:30pm
Nov 1
Nov 2
OK Dynamite 17s/18s
7:30-9:30pm
Nov 4 -
First Eligible Signing Day

---

---

---