Join us for the 2022 OKRVA Beach Regional Championships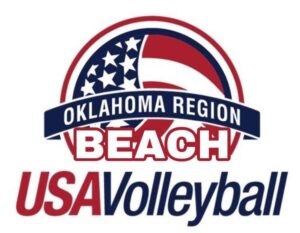 June 18-19
Helmerich Park (Tulsa)
---
2022 JNC Qualifier Bids
---
2022 OKRVA Regional Championship Winners

| Division | Winner |
| --- | --- |
| Girls 10s | OP2 10-1 |
| Girls 11s | OK Charge 11 UA |
| Girls 12s | OP2 12-1 |
| Girls 13s | OK Charge 13 UA |
| Girls 14s | UPVBC 14 Open |
| Girls 15s | OK Charge 15 UA |
| Girls 16s | OP2 16-1 |
| Girls 17s | UPVBC 17 Open |
| Girls 18s | Heat VBC 18 Black |
| Girls 12s Club | Club Ace 12-1 |
| Girls 13s Club | OK Premier 13P-Miranda |
| Girls 14s Club | OK Premier 14 National |
| Girls 15s Club | The OC 15 Elite |
| Girls 16s Club | Wind 16s |
| Boys 14s | 417 Juniors (MO) 14 Black |
| Boys 18s | Kaizen 16 Black |
| Boys 18s Club | KEVC (TX) 18U |
---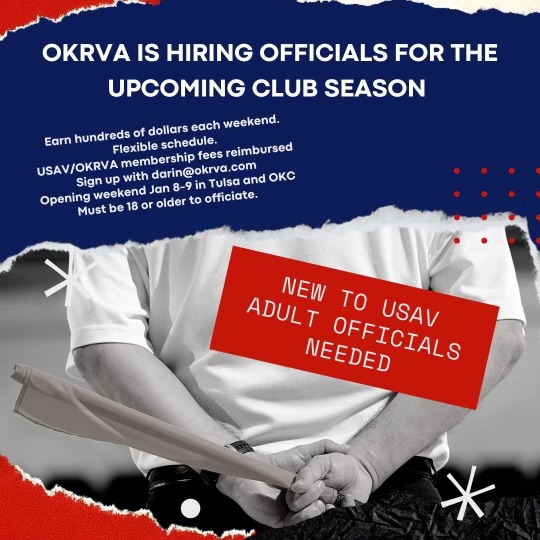 The OKRVA Board of Directors wishes to secure additional officials for the upcoming club season and cover all upfront costs.
Officials new to USAV and OKRVA or those coming off a long absence of club volleyball officiating will be reimbursed all fees associated with OKRVA, USAV, and the background check in exchange for completing the online training.
There are numerous tournaments taking place in Oklahoma and surrounding states where officials can make $300 to $400 or more in a weekend and up to a couple of hundred dollars at a few one day events.  Officials are needed in Tulsa almost every weekend January through April.  OKC has a handful of events as well.
OKRVA will cover all upfront fees in exchange for the completion of the online training.  Please consider this opportunity and reach out to darin@okrva.com for further information and to receive the next steps for the online training.
---
2021 Beach Regional Champions
1st Place

2nd Place

3rd Place

12U Boys

Le/
Reding
[OP2 Beach]

Smith/
Miller
[Tulsa Boys]

Villarruel/
Saha
[OP2 Beach]

12U

Hancock/
Federline

Cryer/
Ale
[OP2 Beach]

Miller/
Williams
[The OC Beach]

14U

Heflin/
Garner
[OK Nation]

Price/
Roberts
[The OC Beach]

Ingraham/
James
[OK Nation]

16U

Worley/
Ward
[OP2 Beach]

Crissup/
Bishop
[OK Nation]

Warren/
Forman
[Vertical Beach]

18U

Fulp/
Ford
[OP2 Beach]

Harkins/
Hart
[OKC Sharks]
---
The Oklahoma Region Volleyball Association (OKRVA) is a non-profit member organization of USA Volleyball (USAV). The USAV is the national governing body for volleyball in the United States. Administration of the Region is organized and governed by an elected board of directors. The primary function of our region is the education of players, officials, and the general public in all the aspects of the sport of volleyball.
OKRVA acts as a liaison for promotion of the sport along with the other regions in the country. The region is involved in adult, junior, and youth volleyball programs and registers members. To participate in sanctioned events, each player and coach must be an active member of OKRVA. When you become a member of the Region, you become a member of USAV.
Currently, the most common affiliation with OKRVA comes through Junior Club Volleyball. The region also supports adult tournaments, disabled volleyball, and High Performance volleyball – a national pipeline to emerging talent. For any questions or feedback, please feel free to contact the region. We welcome your input.