A Message to Parents
OKRVA Statement Regarding Pressuring of Players – The region occasionally hears concerns from players/parents about players feeling pressured by coaches/clubs to sign by a certain date/time. Below is a series of statements to make clear the Region's philosophy on this issue:
It is the intent of the Oklahoma Region to encourage players to try out for more than one club if they choose.
It is the Region's intent that players are not pressured into a verbal commitment due to a coach/club establishing an unreasonable date/time for a decision.
A decision to join a team/club is an individual decision that should be made by a parent/player alone free from club pressure. Gathering players together after a tryout, stating "this is their team" and asking for commitments should be considered pressuring.
When a player receives an offer to commit, she/he needs to decide within a reasonable amount of time. Delaying a decision affects many other players who are also waiting for an offer to commit.
Players/Parents should understand that teams/clubs need to know a player's decision in a timely manner to move on to the next player.
No player/parent should be asked to sign a contract before the region[1]approved signing dates. Contracts are not binding until the signing date.
If a player feels pressured into a decision before, they have gone to other clubs' tryouts, she/he should contact the Region Commissioner at okrva@cox.net.
---
Congrats to the U.S. Women's Sitting National Team on their Gold Medal at the Tokyo 2020 Paralympics.

---
USAV Junior Player Age Definition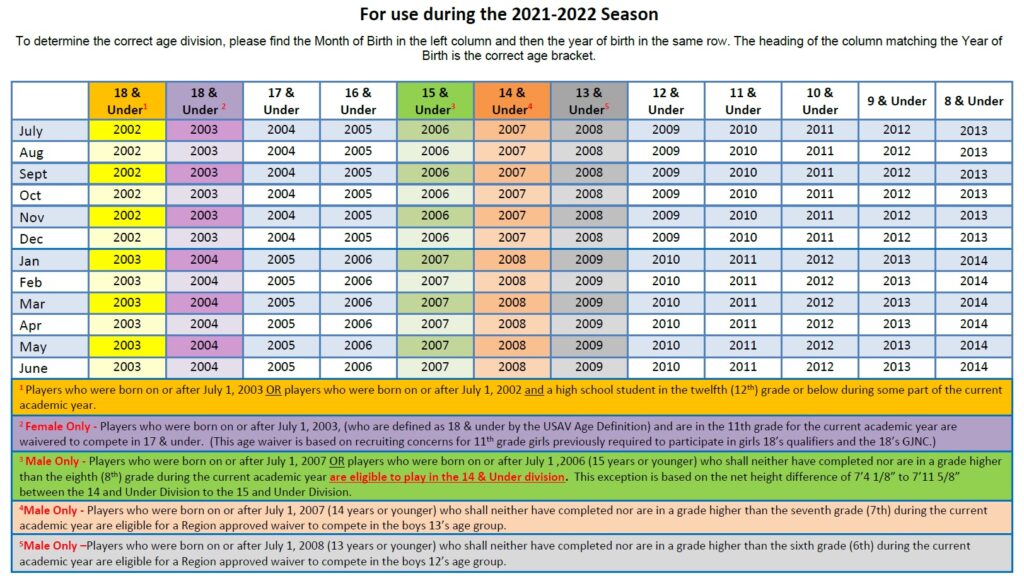 ---
GJNC National Qualifier Bids
| | | |
| --- | --- | --- |
| OK Charge 13UA | Mideast Qualifier | |
| OP2 13EP | Northern Lights | |
| Club ONE 14 Black | Show Me | Lone Star |
| Club ONE 15 Black | Lone Star | |
| OP2 16EP | Show Me | |
| UPVBC 17 National | Show Me | Lone Star |
Indoor Regional Champions
OK Charge 11UA
OP2 12EP
OP2 13EP
OK Charge 14UA
OK Charge 15UA
OK Charge 16UA
OP2 17EP
---
Beach Regional Champions
1st Place

2nd Place

3rd Place

12U Boys

Le/
Reding
[OP2 Beach]

Smith/
Miller
[Tulsa Boys]

Villarruel/
Saha
[OP2 Beach]

12U

Hancock/
Federline

Cryer/
Ale
[OP2 Beach]

Miller/
Williams
[The OC Beach]

14U

Heflin/
Garner
[OK Nation]

Price/
Roberts
[The OC Beach]

Ingraham/
James
[OK Nation]

16U

Worley/
Ward
[OP2 Beach]

Crissup/
Bishop
[OK Nation]

Warren/
Forman
[Vertical Beach]

18U

Fulp/
Ford
[OP2 Beach]

Harkins/
Hart
[OKC Sharks]
---
Congratulations to former OKRVA athlete Micha Hancock and her USA Women's Olympic teammates for their Olympic Gold at Tokyo!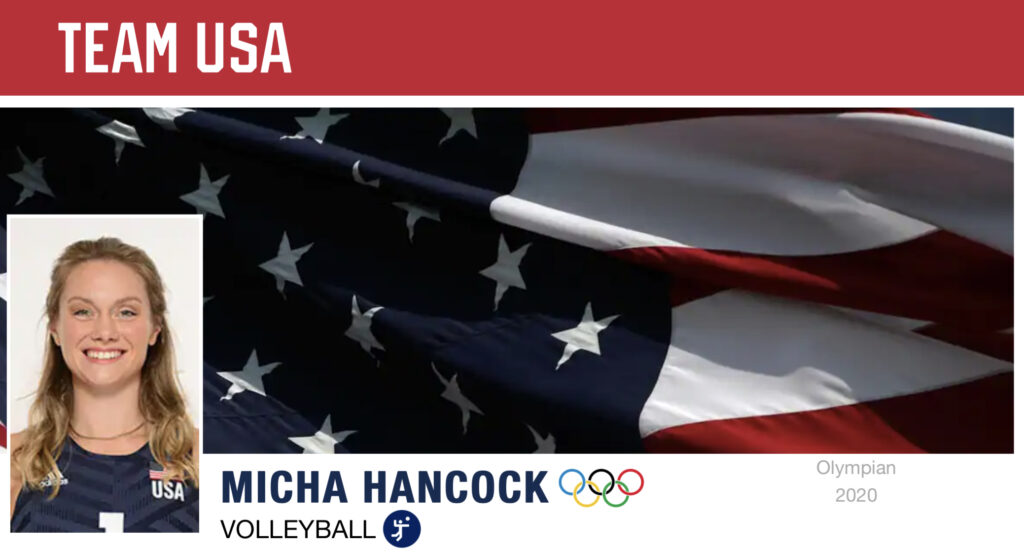 ---
OKRVA would like to pass along our condolences to the family and friends of Joe Windes.  Joe, retired volleyball official, passed away on September 22, 2021.
He was a charter member of OVOA (Oklahoma High School Volleyball Officials) and, for many years, the secretary of the organization. He retired from officiating last year because of declining health.  Joe also officiated Club Volleyball for many years. His son, Carter, started refereeing this year. A daughter played volleyball at OU and Carter played boys volleyball back when the closest boys teams were in the Dallas area.  In addition to officiating, Joe played baseball at OU and is a member of the US Senior Softball Hall of Fame. He played numerous musical instruments.
There will be a memorial service Thursday, September 30th at 2 PM at First Baptist Church, 211 West Comanche St (in Hallock Hall) Norman, OK.
---
The Oklahoma Region Volleyball Association (OKRVA) is a non-profit member organization of USA Volleyball (USAV). The USAV is the national governing body for volleyball in the United States. Administration of the Region is organized and governed by an elected board of directors. The primary function of our region is the education of players, officials, and the general public in all the aspects of the sport of volleyball.
OKRVA acts as a liaison for promotion of the sport along with the other regions in the country. The region is involved in adult, junior, and youth volleyball programs and registers members. To participate in sanctioned events, each player and coach must be an active member of OKRVA. When you become a member of the Region, you become a member of USAV.
Currently, the most common affiliation with OKRVA comes through Junior Club Volleyball. The region also supports adult tournaments, disabled volleyball, and High Performance volleyball – a national pipeline to emerging talent. For any questions or feedback, please feel free to contact the region. We welcome your input.