---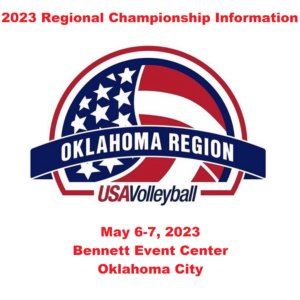 ---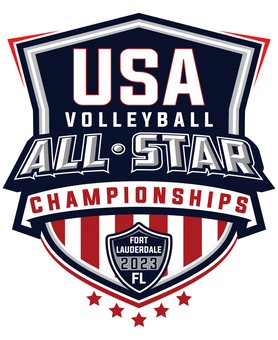 2023 All-Star Championships
OKRVA Team Information
Information regarding OKRVA teams projected for the 2023 All-Star Championships in Ft. Lauderdale, FL are now available [click here].  Player tryouts will be Friday, May 5 at the Bennett Event Center on the Oklahoma State Fairgrounds.
Coaches willing to volunteer to assist with the event may complete this form to register to assist with the tryouts.
Please let the Region know if you have any questions.
---
2023 JNC Qualifier Bids
Team
Bid
Location
Kaizen Boys 16 Black
16 USA
Southwest Boys Classic (Austin)
Feb 2023
Tulsa Power 18-1
18 American
AVC 18s Qualifier (Dallas)
Feb 2023
OP2 18-1 EP
18 National
OKRVA 18s Bid Qualifier (Edmond)
Mar 2023
OK Elevate 18-1
18 American
OKRVA 18s Bid Qualifier (Edmond)
Mar 2023
Virago 18-1
18 Freedom
OKRVA 18s Bid Qualifier (Edmond)
Mar 2023
OK Charge 16 UA
16 USA
Sunshine Volleyball Classic (Orlando)
Mar 2023
Tulsa Power 16-1
16 USA
Red Rock Rave (Las Vegas)
Mar 2023
OP2 15-1 EP
15 USA
Northern Lights Qualifier (Minneapolis)
Mar 2023
OP2 13-1 EP
13 USA
MidEast Qualifier (St. Louis)
March 2023
Ultimate 17 Elite
17 USA
Show-Me Qualifier (Kansas City)
Apr 2023

OK Charge 14 UA
14 USA
Lone Star Qualifier (Dallas)
Apr 2023
OP2 16-1 EP
16 USA
Lone Star Qualifier (Dallas)
Apr 2023
OP2 14-1 EP
14 USA
SLC Showdown Qualifier (Salt Lake City)
Apr 2023
---
2022 OKRVA Beach Regional Championship Winners

Division
Winner
Girls 12s
Jordyn Payne/Cassidy Williams
Virago Beach
Girls 13s
Ava Huneycutt/Ella Scorsone
The OC Beach
Girls 14s
Quincee Carabello/Lanee Heflin
OK Nation Beach
Girls 16s
Ashley Thompson/Brooke Tyler
Blue Beach
Girls 18s
Livia Ward/Addison Worley
OP2 Beach
Boys 16s
Kristopher Chong/Clayton Stefani
TBVC Beach
---
2022 OKRVA Regional Championship Winners

| Division | Winner |
| --- | --- |
| Girls 10s | OP2 10-1 |
| Girls 11s | OK Charge 11 UA |
| Girls 12s | OP2 12-1 |
| Girls 13s | OK Charge 13 UA |
| Girls 14s | UPVBC 14 Open |
| Girls 15s | OK Charge 15 UA |
| Girls 16s | OP2 16-1 |
| Girls 17s | UPVBC 17 Open |
| Girls 18s | Heat VBC 18 Black |
| Girls 12s Club | Club Ace 12-1 |
| Girls 13s Club | OK Premier 13P-Miranda |
| Girls 14s Club | OK Premier 14 National |
| Girls 15s Club | The OC 15 Elite |
| Girls 16s Club | Wind 16s |
| Boys 14s | 417 Juniors (MO) 14 Black |
| Boys 18s | Kaizen 16 Black |
| Boys 18s Club | KEVC (TX) 18U |
---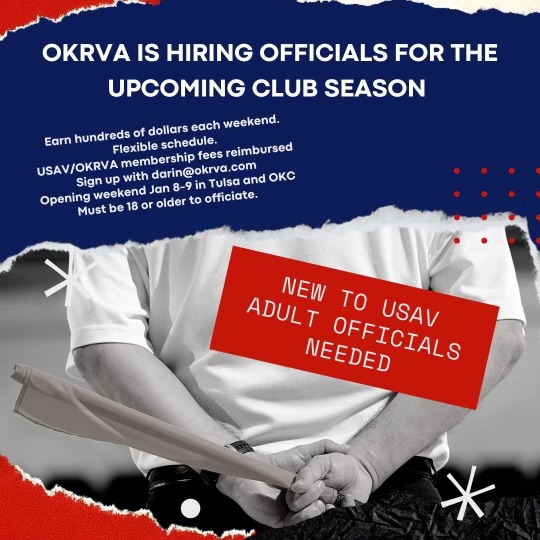 The OKRVA Board of Directors wishes to secure additional officials for the upcoming 2021-22 club season and cover all upfront costs.
Officials new to USAV and OKRVA or those coming off a long absence of club volleyball officiating will be reimbursed all fees associated with OKRVA, USAV, and the background check in exchange for completing the online training.
There are numerous tournaments taking place in Oklahoma and surrounding states where officials can make $300 to $400 or more in a weekend and up to a couple of hundred dollars at a few one day events.  Officials are needed in Tulsa almost every weekend January through April.  OKC has a handful of events as well.
OKRVA will cover all upfront fees in exchange for the completion of the online training.  Please consider this opportunity for 2021-22 and reach out to darin@okrva.com for further information and to receive the next steps for the online training.
---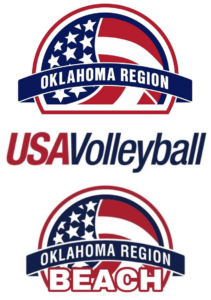 The Oklahoma Region Volleyball Association (OKRVA) is a non-profit member organization of USA Volleyball (USAV).  The USAV is the national governing body for volleyball in the United States.  Administration of the Region is organized and governed by an elected board of directors.  The primary function of our region is the education of players, officials, and the general public in all the aspects of the sport of volleyball.
OKRVA acts as a liaison for promotion of the sport along with the other regions in the country.  The region is involved in adult, junior, and youth volleyball programs and registers members.  To participate in sanctioned events, each player and coach must be an active member of OKRVA.  When you become a member of the Region, you become a member of USAV.
Currently, the most common affiliation with OKRVA comes through Junior Club Volleyball.  The region also supports Paralympic Volleyball, High Performance/All-Star volleyball, adult tournaments, and the NTDP – a national pipeline to emerging talent.
For any questions or feedback, please feel free to contact the region.  We welcome your input.